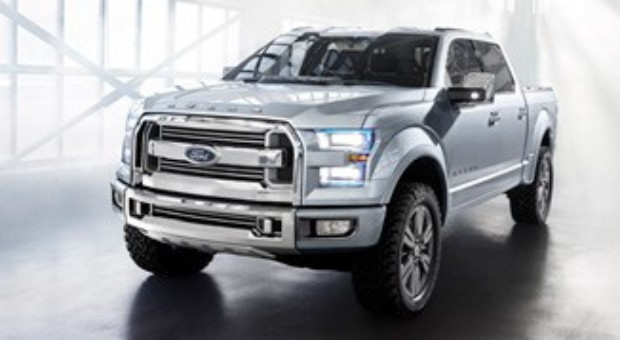 2013 Ford Atlas Concept Truck
The Ford Atlas Concept is a bold look at potential design, technology and capability features that could one day appear in Ford trucks.
Drawing on 65 years of F-Series heritage and 36 consecutive years of sales leadership, Ford is once again staying well ahead of the game by listening to its customers and using their insights as inspiration. Truck owners need a tough, efficient partner that's ready for anything. The Ford Atlas Concept is the ultimate solution for them to get the job done and play as hard as they do.
Even at first glance, the Ford Atlas Concept sheet metal ripples with muscle toned with modern refinement.
As for brains, it comes with Trailer Backup Assist, a ground-breaking innovation that lets the driver back a trailer with the twist of a knob. Together with Dynamic Hitch Assist, it helps a driver with limited towing experience handle trailering like a seasoned pro. And helps a seasoned pro handle trailering like never before.
The 360-degree camera lets the driver see all around the truck on the center stack screen with the Ford Atlas Concept in the middle and the world surrounding it. This Ford truck first gives you a bird's eye view to help position the vehicle in tight places. Perfect for a busy job site or the grocery store parking lot.
Ford Atlas Concept
"Ford Atlas Concept is the latest in our series of signature Ford Truck concepts, which includes Mighty Tonka and Super Chief," said J. Mays, Ford group vice president and chief creative officer.
"Where Tonka demonstrated uncompromising strength and Super Chief tough truck luxury, Ford Atlas Concept reflects how Ford Trucks help our customers carry their world. Professionally and personally."
Features that accommodate both work and off-the-clock utility include sideview mirror-mounted LED spotlights capable of illuminating a worksite when an owner is working early or late and the SYNC® with MyFord Touch® screen is workglove friendly and can turn the cab into a Wi-Fi® hotspot. It's an open platform that can work with a broad range of productivity applications.
The cargo box includes its own LED lighting, tie downs and hidden cargo ramps stowed under the bed to make loading easy. The tailgate step becomes a cradle for the integrated roof carrier.
LED headlamps and taillamps offer enhanced road lighting over conventional halogen or HID lights and last longer.
The Ford Atlas Concept was built with technologies to help maximize efficiency. Active grille and wheel shutters together with power-deployable front spoiler and running boards actually re-shape the Atlas, improving its aerodynamics and help it cut through the wind.
The Atlas also uses Auto Start-Stop engine shutoff technology for enhanced efficiency in stop-and-go driving conditions. The system is designed specifically for trucks. For instance, Auto Start-Stop pauses when the truck senses it's towing.
It's powered by a twin-turbocharged EcoBoost® engine mated to an advanced automatic transmission.
"More than a tribute to Ford's historic truck legacy, Ford Atlas Concept was inspired by the work ethic and lifestyle of today's Ford Truck owners and drivers," said Ford Atlas Concept design director Gordon Piotti. "Atlas pushes the envelope to evoke emotional appeal, as its Ford DNA remains instantly recognizable."
That means the iconic block front grille and leading edge drop down on the side windows together with muscular and efficient body sculpture gives owners something they can feel proud to park in their driveway.
Predicting the future isn't always 100% accurate. But if the new Ford Atlas Concept is any indication, the road ahead is a world ahead of anything truck owners have ever known.
Source: Ford
Related External Links
<b>VIDEO</b>: ALERT!!! 5 'Devastating Secrets' the Obama Admin Keep <b>…</b>
(Visited 3 times, 1 visits today)