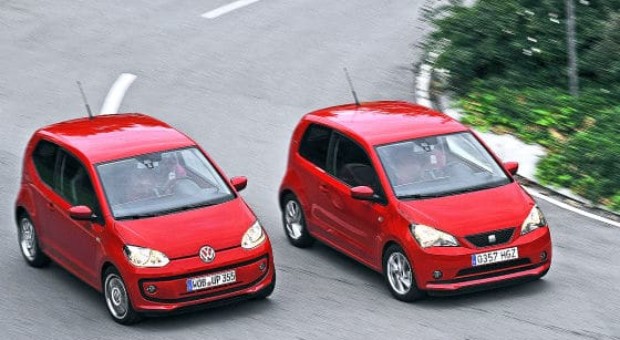 The Volkswagen up! is a city car, part of the Volkswagen Group New Small Family (NSF) series of models, unveiled at the 2011 Frankfurt Motor Show (IAA).
Production of the up! started in December 2011 in Bratislava, Slovakia.
The production up! follows a series of concept cars, starting in 2007 at the Frankfurt Motor Show.
All up!
concepts are designed by Volkswagen Group Chief Designer Walter de##Q##Silva and Head Designer of the Volkswagen Passenger Cars marque Klaus Bischoff. Shown at the Frankfurt launch were several further up! concept cars, including a 98 hp (73 kW) GT version, a natural gas-powered Eco-up! (with CO2 emissions of 79 g/km) and a four-door Cross model.
The original up! concept car used a rear-engine, rear-wheel drive layout, however the 2011 production model has front-engine, front-wheel drive layout, using the NSF platform. and a 3-cylinder 1.0 litre petrol engine. A plug-in electric up! is also expected to be launched in 2013.
The SEAT Mii and Škoda Citigo are rebadged versions of the up!, with modifications to the front and rear designs, and are manufactured in the same factory.
Volkswagen Up! and Seat Mii are sisters!
The New SEAT Mii makes every journey a pleasure. Designed and built for the city, it makes parking spaces multiply and rush-hour traffic seems to melt away. Combining clever multimedia technology with smart engineering and leading fuel-efficiency, it's more than just a car. It's a tool for getting the most out of life
The New SEAT Mii is where compact charisma meets practical city living. The intelligent interior design optimises every inch of space and fits four adults with ease. Whatever your needs, you can choose between a 3-doors and a 5-doors version for even easier access to the back seats.
At the heart of your New SEAT Mii is the SEAT Portable System, a multimedia, multipurpose touchscreen bringing together navigation, on-board information, entertainment, hands-free connectivity and more.
The SEAT Portable System includes a complete navigation system, with five-inch touch screen and voice recognition. As well as showing you the best route through current traffic, it can even take you to the closest petrol station or the best restaurant in town.
It's portable, too, helping you find your way on foot as conveniently as it does when you're behind the wheel.
Your New SEAT Mii takes charge when you're in traffic, thanks to the innovative safety features. The Electronic Stability Control and ABS keep you on track whatever the road conditions, while the driver and passenger airbags come to your aid whenever they're needed.
Talking when driving is no problem with the hands-free Bluetooth function. Powerful speakers ensure clarity of reception, while the SEAT Portable System shows you who is calling. You can also manage your phonebook and listen to incoming texts instead of stopping to read them.
For even safer driving you can add the City Safety Assist to your standard equipment. It constantly keeps looking out for objects and other cars in the road ahead, braking automatically to prevent collisions below 30km/h.
All the information you need at the touch of a button. The on-board computer provides up-to-date information about your car, including current and average fuel consumption and the range of your New SEAT Mii. You can also access information including outside temperature, coolant temperature and continuously display the rev counter, so you know you're driving most efficiently.
With the Rear Parking Sensor you avoid bumps and easily fit into the tiniest parking spaces. When you're driving in the city, it's great to have a co-pilot. And with the Cruise Control also long-distance driving becomes a pleasure.
(Visited 131 times, 1 visits today)