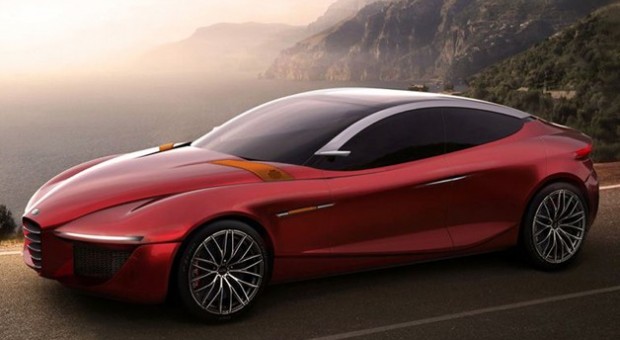 Alfa Romeo unveil new Gloria concept
The European Institute of Design (IED) in Turin will unveil its new Gloria concept, developed in collaboration with Alfa Romeo Style Center, at next month##Q##s Geneva motor show.
These renders of the sports sedan concept, which is 4,200mm long, 1,920mm wide, 1,320mm high sitting on a wheelbase of 2,900mm, show a traditional Alfa grille that feeds into the hood##Q##s prominent V-shaped character lines. Two leather hood straps in front of the windshield are a nod to the brand##Q##s older models.
Its flanks feature a heavily concave surface and an exaggerated rocker, while the beltline stretches from the top of the front wheelarch, creating a soft wave effect before straightening as it feeds into the horizontal rear lamp strip, which stretches the visual width of the car. The heavily tinted panoramic glasshouse features a silver cant rail that appears to float on top.
Its cabin appears to mix traditional Alfa themes – such as the pair of cowled instruments and red, black and chrome color and trim – with modern electronics.
The concept is the result of 20 Masters course students led by designer Luca Borgogno. The students submitted individual proposals before 10 were chosen for development into 1:4 clay models. The choice was then made to develop the scale model that best met the brief provided by Alfa Romeo before the class was divided into the groups to complete the full-scale concept.
Related External Links
(Visited 23 times, 1 visits today)