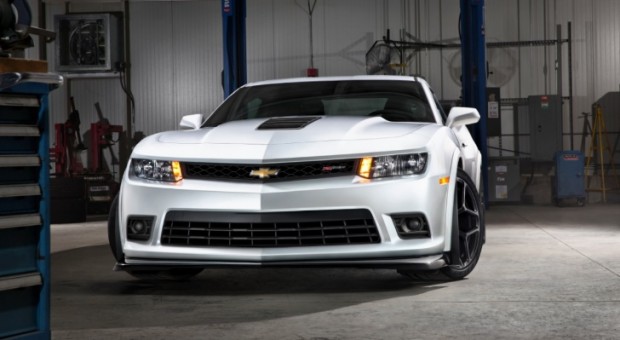 Chevrolet today introduced the restyled 2014 Camaro line at the New York Auto Show, including the return of the Z/28, the most iconic model in Camaro history.
The 2014 Camaro models feature a revised exterior design that integrates high-performance aerodynamics for more efficient cooling and stability at high speeds. The new Camaro Z/28 also features a full aerodynamics package that creates downforce at speed, which helps make it the most track-capable offering in Camaro's history.
"As the ultimate track-capable Camaro, this car restores the mission of the original Z/28, and serves as a testament to the expertise of Chevrolet as the best-selling brand of performance cars," said Mark Reuss, president, GM North America. "The build sheet is the wish list of any racer: lightweight, high-revving, dry-sump LS7 engine; carbon-ceramic brakes; integrated coolers for track use; true aerodynamic downforce, and a significant reduction in curb weight. This car could only come from Chevrolet, and could only be called the Z/28."
The first Camaro Z/28 was introduced in 1967, created to compete in the Sports Car Club of America's Trans-Am 2 class. It featured a smaller, lighter, 302-cubic-inch V-8 for improved weight balance, as well as quick-ratio steering and a heavy-duty suspension for track use. In keeping with its road-racing focus, the 1967 Camaro Z/28 was not available with an automatic transmission or air conditioning.
Source General Motors | Discover more about new Camaro here and its new engine here.
(Visited 2 times, 1 visits today)