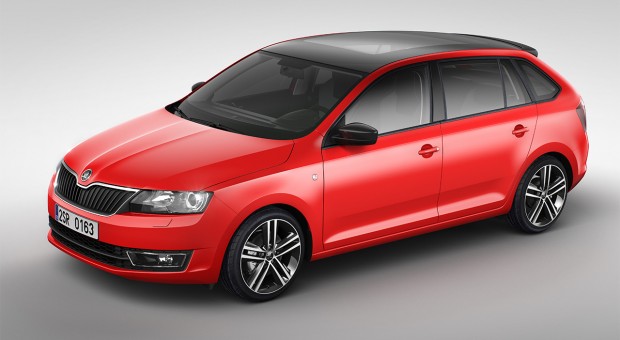 2013 All-New Skoda Rapid Spaceback
The Skoda Rapid Spaceback with its dynamically fresh design offers a lot of space, numerous 'Simply Clever' ideas, top safety, interesting opportunities for individualization, low fuel consumption and an excellent price/value ratio. The Rapid Spaceback will celebrate its premiere at this year's Frankfurt Motor Show, while its launch in the European markets is scheduled for October 2013.
The new Skoda Rapid Spaceback has a clear, independent appearance with a special chic. It is a car which exudes sporty freshness and dynamic elegance, making it attractive and appealing at first sight. The side view offers special accents. Compared with conventional hatchback models, it looks sportier and stretched, almost like a coupe. The Skoda Rapid Spaceback's dynamic silhouette is marked by clear lines, a long wheelbase (2,602 millimeters) and the sharp, high tornado line. The Rapid Spaceback has a 'C' and a 'D' column with a third side window.
In Europe, the new Skoda Rapid Spaceback is available with four petrol and two diesel engines.
These advanced power plants put out between 55 and 90 kW, the 1.6 TDI/66 kW celebrating its premiere in the Rapid model series. In the GreenLine version with this engine, the Rapid Spaceback consumes a mere 3.8 l per 100 km, CO2 emissions amounting to 99 g/km
Skoda Rapid Spaceback offers a lot of space: though the exterior of the new model measures 18 centimeters less than the Rapid saloon, passenger space is just as generous as in the car's 'big brother'. The rear of the Rapid Spaceback offers the largest legroom (64 millimeters) and the largest headroom (980 millimeters) in its segment. Likewise, the trunk volumes are among the best figures in the segment, measuring 415 liters or 1,380 liters when the rear bench is folded down.
---
2013 All-New Skoda Rapid Spaceback | Source, Skoda – please read more about this new model.
(Visited 9 times, 1 visits today)