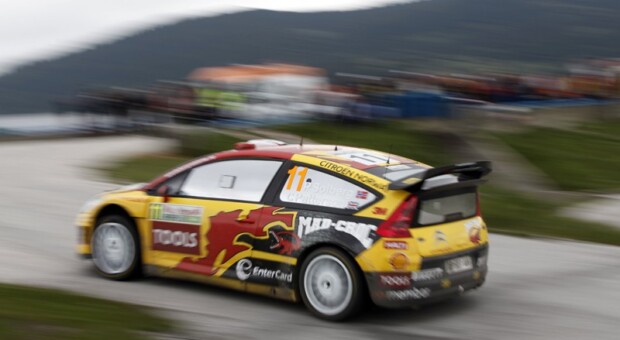 PETTER SOLBERG'S CITROËN DS3 SUPERCAR
Outwardly, the Citroën DS3 Supercar looks similar to the Citroën DS3 WRC that Petter campaigned in the 2011 World Rally Championship. Under the skin though, they are very different beasts. Essentially, there's a lot more freedom in the rallycross regulations, and the cars themselves are faster. This allows the engineers to have almost as much fun as the drivers…
Rallycross cars have to use any standard engine block from the car manufacturer, meaning that they can run any size of engine with a 45mm turbo restrictor. This puts out up to 600 horsepower and delivers truly explosive performance. The only downside is the amount of turbo lag sometimes, meaning the drivers have to anticipate exactly when they will need maximum performance well in advance. However, despite the power, the engines are remarkably robust – lasting for several thousand kilometres. That's because everything in the engine that can be reinforced is beefed up. Just as well because that massive turbo is trying to tear the two-litre engine apart every time Petter touches the throttle.
There's more freedom in the chassis as well. You can modify the bodywork in order to cater for the unique demands of rallycross, with vents for the rear-mounted radiators for example: a standard feature of rallycross cars that stops dirt getting sucked into the engine and improves weight distribution. The minimum weight of rallycross cars is 1300 kilograms: making them truly featherweight racers. The biggest difference that Petter will notice compared to his other cars in recent years is that there's no co-driver!
Transmission is four-wheel drive linked to a six-speed sequential gearbox, although the drivers rarely use sixth as it's all about acceleration and powering past your rivals in rallycross. The gearbox and transmission is built for strength and reliability rather than ultimate sophistication.
As for electronics and driver aids, that's easy enough: there aren't any, just as it should be. There is one main sensor on the DS3 Supercar, which is the seat of Petter's pants. Traction control is provided by Petter's right foot and his hands on the steering wheel provide stability control. Launch control? Are you serious? That's why Petter calls rallycross "pure motorsport."
Source, please read more ….
(Visited 29 times, 1 visits today)