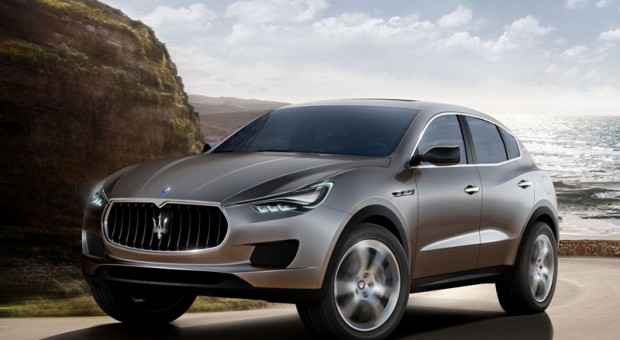 Maserati Kubang. Maserati##Q##s vision of a high performing sport luxury SUV.
The Maserati Kubang was a 2003 concept car from the Maserati subsidiary of Fiat and had not been introduced for production. Maserati's second effort to build an SUV; the first was stillborn after it was shown as a concept in 2003. The Kubang will compete against established luxury crossovers but offer greater exclusivity and Italian flair. To sell cars in erratically paved places such as China, Russia, and South America, Maserati will need something more rugged than its sports cars.
The Quattroporte will get a heavily revised 4.5-liter V-8 and a dual-clutch eight-speed automatic later this year; that powertrain also will find its way into the Kubang. Direct fuel injection, along with a stop-start system, will boost fuel economy and bring power to about 500 horses.
Starting In 2014, Maserati will be selling its first ever diesel-powered vehicle, the Kubang SUV to compete with the Porsche Cayenne diesel in the European market. What Car? asked Maserati's Vice President of Product Development, Roberto Corradi, about the notoriously beautiful engine sounds that Maserati buyers know and love in their cars and its potential effect on the sales of this diesel SUV.
Corradi responded by stating that engineers are working on using the Kubang's stereo system to give it a nice engine note. This can only be interpreted as Maserati piping in fake engine sounds through the stereo. Unlike the BMW M5, we see a purpose for this, just like we do in electric cars, as these economic diesel engines just don't sound cool. This piping in sounds of a high-performance engine can make drivers feel more like they are driving a true Maserati rather than a slower diesel model.
Late 2013, starting at about $70,000 and rapidly rising toward $90,000 with options.
(Visited 131 times, 1 visits today)