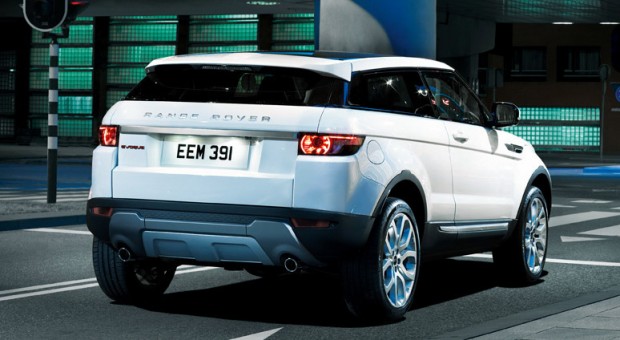 The Range Rover Evoque is a compact sport utility vehicle (SUV) produced by the British manufacturer Land Rover, part of Tata's Jaguar Land Rover group.
The production vehicle is similar to the Land Rover LRX concept, which was unveiled at the North American International Auto Show in January 2008.
The Evoque was developed from the LRX concept vehicle with the goal of producing a smaller more environmentally conscious vehicle. The size of the LRX complemented a wide array of efficiency improving technologies in the form of Land Rover's e_Terrain technologies. These included biofuel compatibility, lightweight construction materials and technologies such as the removable carbon composite roof panels, regenerative brakes, a stop-start system, and the ERAD (electric rear axle drive) parallel hybrid powertrain system.
The Evoque has been produced since July 2011 in three- and five-door versions, with both two-wheel and four-wheel drive. The Evoque is designed to appeal to urban buyers and meet requirements for lower CO2 emissions and fuel economy.
The manufacturer's fuel economy estimates for the 2.2-litre diesel engine with manual transmission are 47.1 miles per imperial gallon (6.00 L/100 km; 39.2 mpg-US) urban and 56.5 miles per imperial gallon (5.00 L/100 km; 47.0 mpg-US) combined, with CO2 emissions of 133 g/km.
For the 2.0-litre petrol engine with automatic transmission the figures are 23.7 miles per imperial gallon (11.9 L/100 km; 19.7 mpg-US) urban and 32.5 miles per imperial gallon (8.69 L/100 km; 27.1 mpg-US) combined, with 199 g/km CO2.
The Evoque has been received positively by the automotive press for retaining the features, amenities, and off-road capabilities of a traditional Range Rover in a smaller package.
Land Rover sold nearly 88,000 units of the Evoque in its first year of production.
Range Rover Evoque Design 2013
2013 Land Rover Range Rover Evoque
2013 Range Rover Evoque Dynamic. Start Up, Engine, and In Depth Tour
Range Rover Evoque – On and Off-Road Test
The Range Rover Evoque, especially in 2-door trim, seems like a bit of an accessory for the well-to-do women of Beverly Hills. It's got a 4-cylinder engine, no air suspension, and big, flashy wheels. It's small. So, how can it be a real Range Rover?
(Visited 30 times, 1 visits today)