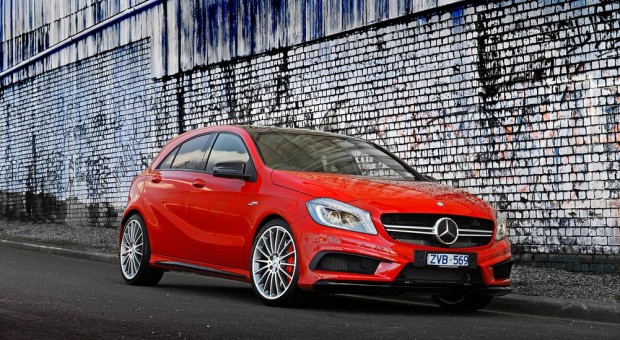 We've all seen the Mercedes AMG ranges around, so what makes the A45 special? No matter what, Mercedes always manage to offer class and comfort within every vehicle they produce
Saying the A45 is a sports car is probably the wrong thing to say, but it certainly looks sporty. With the optional AMG body kit that gives it sleek and sexy curves, you're going to fall in love with the way this beauty looks. Although the framework is rather sporty, it's a large car that's also sure to bring a sense of safety.
Interior wise you can expect bucket seats that mould in with the dashboard along with top of the range dials and gadgets. The car comes fitted with a comfort steering wheel that you won't be able to keep your hands off. Inside the car you can also expect to see high precision red detailing along the luxury leather seats, around the speakers and vents and also, a red seat belt for that extra design. The carbon fibre dashboard will dazzle it's way into your heart as it pulls together the whole design of the interior.
Even though the car itself doesn't weigh that much, coming in at 1555 kg, it can only hold a load of up to 100 kg on the roof. The fuel tank mind you is a rather impressive size for this model. Even though the car is quite large, it's by far one of Mercedes smaller cars. They have managed to get in a 56 litre engine with 8 litres reserved. On a full tank of gas, you can expect to travel over 500 km before needing to refuel. Although you may be able to travel one hell of a distance between each visit to the garage, unfortunately, the A45 isn't very efficient when it comes to emissions. It has an consumption rating of D, which unlike many of it's other competitors isn't very good in this day and age.
With a 0-100 kmh of 4.2 seconds, you certainly won't be at the back of the race. Large competitors like BMW and Audi have yet to beat the straight line speed of the A45, giving you a large upper hand. It is however, electronically limited to between 250 and 270 km/h. Whilst it isn't Mercedes first four wheel drive car, it's certainly one that's going to stick in your mind longer than the rest.
Not that anything should go wrong with this stunning piece of machinery any time after purchase, but another thing that is on offer is the care of their vehicles. Euro Motorsport Mercedes Benz service is a service you should consider to take extra special care of your new baby.
Overall the Mercedes AMG A45 is a stunning car, and a perfect example of how Mercedes can cater to all kinds of cars. It will set you back almost thirty eight grand though. Honestly, it's a price I'd be willing to pay for such class and elegance all tied in with a sports car.
(Visited 1 times, 1 visits today)