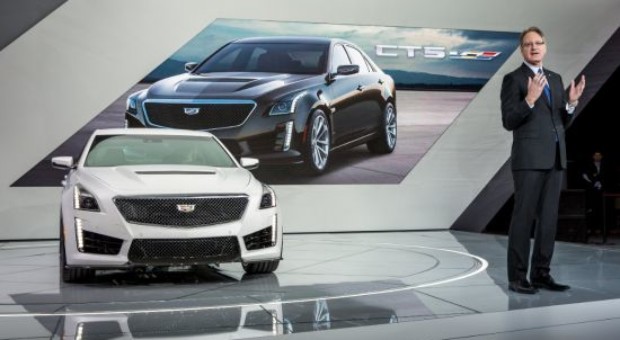 2016 Cadillac CTS-V Hits 200 mph with 640 hp
Cadillac introduced the 2016 CTS-V, the most powerful product in the brand's 112-year history and the newest entry in the elite class of the world's highest-performing luxury cars.
Launching in late summer with 640 horsepower (477 kW), 630 lb-ft of torque (855 Nm) and a top speed of 200 mph, the new CTS-V reaches higher than its predecessors, leading Cadillac's product-driven expansion and elevation. It is the third generation of the acclaimed luxury sports sedan that launched the elite V-Series a decade ago – and redefined Cadillac for a new generation of enthusiasts.
The power behind the new CTS-V's capability is an all-new, more powerful 6.2L supercharged V-8 engine that makes more power more efficiently than the previous Cadillac supercharged engine. It employs a more-efficient, more-compact 1.7L supercharger and matches it with direct injection and Active Fuel Management (cylinder deactivation).
The supercharger's rotors are smaller in diameter than the previous supercharged engine, allowing higher maximum rpm that enables power-enhancing boost to be generated earlier in the rpm band. That boost is achieved more efficiently via a more direct discharge port that creates less turbulence, reducing heat and speeding airflow into the engine.
The Cadillac supercharged engine also has several unique features designed to support its high output and the greater cylinder pressures created by forced induction, including Rotocast A356T6 aluminum cylinder heads that are stronger and handle heat better than conventional aluminum heads, and lightweight titanium intake valves.
Comprehensive updates make the new CTS-V essentially two cars in one: a luxury sedan with sophisticated road manners and a track-capable sports car straight from the factory. It also introduces a new supercharged 6.2L V-8 engine backed by Cadillac's paddle-shift eight-speed automatic transmission, featuring launch control and Performance Algorithm Shifting.
The CTS-V shares the same 114.6-inch (2,910 mm) wheelbase as the CTS non-V-Series models, but has wider front and rear footprints that enhance grip, reduce body motion and contribute to more direct-feeling steering.
Nineteen-inch wheels wrapped with specially developed Michelin Pilot Super Sport tires give the CTS-V its footprint and enable nearly 1g in lateral acceleration. The lightweight, forged aluminum wheels – measuring 9.5 inches wide in the front and 10 inches wide in the rear – are constructed of a low-mass forging that helps reduce un-sprung weight for greater agility and a more direct feel to steering inputs.
The wheels are 45-percent stiffer than previous CTS-V wheels, while the Michelin tires feature a tri-compound tread that delivers excellent grip in performance driving situations, while offering excellent ride quality characteristics and extended tread wear.
With more horsepower and torque than the Mercedes-Benz 5.5L biturbo V-8 and the BMW M-series 4.4L TwinPower (twin-turbo) V-8, the new CTS-V is capable of 0-60 performance in 3.7 seconds.
Track-honed design, chassis and suspension elements complement the supercharged powertrain and elevate CTS-V's capability, performance and driver control to new thresholds, while enabling track driving without modifications or special procedures. Key performance technologies include:
◾ Standard carbon fiber hood and available carbon fiber vent, front splitter, rear spoiler and rear diffuser for greater aerodynamic performance
◾ Brembo high-performance brake system developed to provide durability, consistency and the capability for track-day performance straight from the factory
◾ Third-generation Magnetic Ride Control delivering 40-percent faster damping response
◾ Integrated chassis controls that provide balanced performance for touring and the track, including competition-spec Performance Traction Management
◾ Structural stiffness increased by 25 percent for improved ride and superior handling
◾ Driver-selectable modes electronically calibrate performance variables for touring, sport and track driving conditions
◾ Michelin Pilot Super Sport tires with tri-compound technology offering excellent grip with extended wear
◾ An interior with performance-oriented, sueded microfiber accents and matte-finish carbon fiber trim and available RECARO high-performance seats for spirited driving
◾ Advanced safety and parking technologies, including a front curb-view camera system that provides a visual cue of curbs to protect the front splitter; automatic parking assist to find and steer into parallel or perpendicular parking spots; side blind zone alert, forward collision alert, lane keep assist and rear cross traffic alert.
Additionally, the Performance Data Recorder in the CTS-V allows drivers to record high-definition video, with data overlays, of their driving experiences on and off the track, enabling sharing on social media.
(Visited 1 times, 1 visits today)