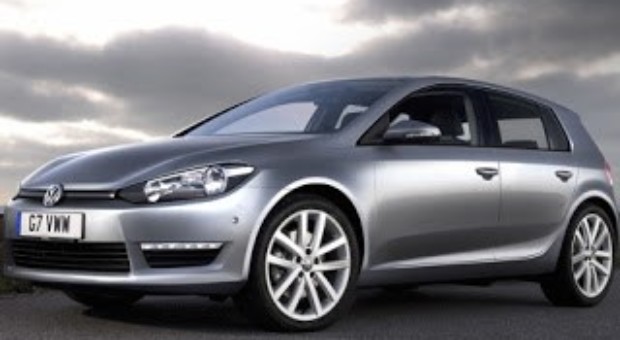 2012 Paris Motor Show – Volkswagen – Volkswagen Golf 7
 Volkswagen Golf 7
Here are the first photos of the Volkswagen Golf 7. After months of spy photos, computer renderings, horrible photoshops and more, the official photos have been released.
The all-new VW Golf Mark 7 for 2013 was unveiled at an event in Berlin on Tuesday night.
It is now 36 years since Volkswagen launched the first Golf, since when it has sold 29 million models, including famous variants like the Golf GTi.
It is hard for us to believe that another generation of Golf has gone by.
Rear legroom is longer by 15 mm, and the front seats have been moved 20 mm further back. The boot is 30 litres larger, at 380 litres, with a low 685 mm sill to make loading effortless.
The front passenger seat can also – optionally – fold fully forward, creating a loadspace up to 2.4m long.
The new Golf features new petrol and diesel engines, all of which incorporate Stop/Start and battery regeneration systems.
At launch, the petrol engines are a 1.2-litre TSI 85 PS unit returning 57.6 mpg on the combined cycle and 113 g/km, and a 1.4-litre TSI 140 PS unit with Active Cylinder Technology, which can deactivate two of the cylinders, and achieves up to 58.9 mpg and 112 g/km.
The launch diesel engines are a 1.6-litre unit with 105 PS, which promises 74.3 mpg and 99 g/km, and a 2.0-litre 150 PS unit which returns 68.9 mpg and 106 g/km.
The new range, expected to go on UK sale in October, looks more evolutionary than revolutionary, with Volkswagen's chief designer, Walter de Silva keeping much of the car's classic styling cues.
Volkswagen Golf 7
Volkswagen Golf 7 – First Official Promo – World premiere in Berlin
Volkswagen Golf 7 – First Impresions Interior shots
Volkswagen Golf 7 – First Impresions Exterior shots
The new car is 4.255m, 56 mm longer than the old car, with a 59 mm longer wheelbase of 2,637 mm.
The front wheels are 43 mm further forward, helping to generate more interior space, while the Golf is also 13 mm wider, at 1,799 mm, and 28 mm lower, at 1,452 mm. This helps to create a 10 per cent improvement in the drag co-efficient, which is now 0.27 Cd.
To be honest, apart from the larger dimensions, you'd be hard pressed to notice much difference over the Mk. VI.
(Visited 19 times, 1 visits today)