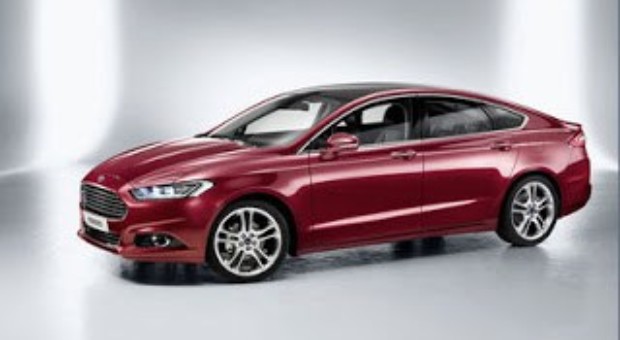 2013 Ford Mondeo version for Europe
2013 Ford Mondeo version for Europe
The Ford Mondeo is a large family car sold by the Ford Motor Company in various markets throughout the world. The name "Mondeo" derives from the Latin word mundus, meaning "world".
The initial generation of the Mondeo was developed as a "world car", along with North American models marketed as the Ford Contour and Mercury Mystique until 2000, and as the Ford Fusion from model year 2013 and on.
The Mondeo has been largely hailed as a class-leader since launch, critically considered far superior to its main rival the Opel/Vauxhall Vectra and dynamically superior also to the Opel/Vauxhall Insignia.
Ford has officially revealed the new Mondeo at its recent ##Q##Go Further##Q## event in Amsterdam, confirming that it will be the next European model to be fitted with the company##Q##s 1.0-litre EcoBoost engine. The new model will be unveiled at the Paris motor show.
Production of the next-generation Ford Mondeo has reportedly been set back by up to three months, potentially delaying the launch of the blue oval's new mid-sized sedan in Europe and Australia.
Based on the US-market Fusion, revealed at the Detroit motor show in January, the Mondeo has been mildly re-engineered for European roads, although the launch of the new car has been delayed following production issues – now expected to arrive in September 2013.
Industry journal Automotive News Europe reports that production of the new Mondeo was due to start on April 6, 2013 at the company's Genk plant in Belgium but has since been postponed until closer to the middle of the year.
A Ford spokesman confirmed the delay, telling local media in Belgium the company was "working through various issues to ensure a robust, high quality launch".
The revolutionary engine is now fitted throughout most of Ford##Q##s Europoean range, including the Fiesta, Focus, B-Max and C-Max.
The 2013 Ford Mondeo is set to feature two four-cylinder EcoBoost petrol engines, including a 133kW/233Nm 1.6-litre and a 177kW/340Nm 2.0-litre (similar to that found in the Ford Falcon EcoBoost), as well as a four-cylinder diesel.
And now please remember 2012 Ford Fusion / Mondeo Detroit …
(Visited 6 times, 1 visits today)