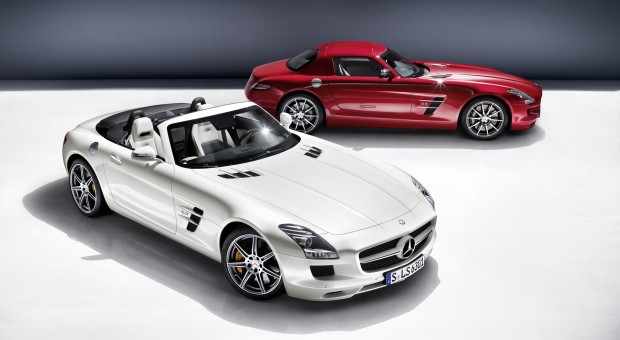 Is the Mercedes SLS AMG Roadster too plain for you? Tuner Gullwing America might have the answer. The company made a modern interpretation of the Mercedes 300SL back in 2009, and its work caught the eye of an Eastern European customer who's idea you see here.
Designed to look like the 1955 Mercedes-Benz 300C, of which only 92 units were apparently made, the car uses the SLS Roadster's drivetrain and interior, both of which appear with few changes. That means a 563bhp 6.2-litre V8 driving the rear wheels via a seven-speed twin-clutch gearbox, and a leather and tech-packed interior that doesn't quite echo the exterior.
There's an unashamedly retro look (and a stonking front grille) with pepperings of 21st-century touches, including LED headlights and the SLS Roadster's active rear spoiler moved to a different position. It's one of the boldest cars you're ever likely to see, the heavily sculpted front wings and rear arches housing huge alloy wheels (21in front, 22in rear). There's a soft-top plus a removable hard-top to help make it suited to all weathers.
(Visited 34 times, 1 visits today)