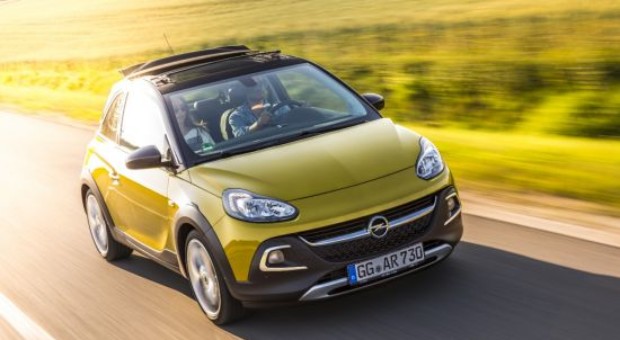 Mini-Crossover on Road to Success: New Opel ADAM ROCKS
The ADAM family is growing: as an adventure-loving open-air car, a stylish trendsetter and an individualization champion, the new Opel ADAM ROCKS plays many roles perfectly. And as a three-door, 3.75-meter long urban pocket-crossover, it also opens up a new market niche. Opel designers have developed new design elements, décors and seating trims all unique to ADAM ROCKS which, together with the Swing Top canvas roof fitted as standard, give it its very own chic charm. The latest member of Opel's urban lifestyle family is also powered by an all-new 1.0 ECOTEC Direct Injection Turbo engine.
This high-tech, pocket powerhouse already complies with tough Euro 6 emissions standards and raises the bar for three-cylinder engine refinement with exceptionally low noise and vibration, as well as superb comfort. Opel's advanced IntelliLink infotainment system with its fast, user-friendly operation integrates smartphones into ROCKS' cockpit at a very affordable price. From late September, ADAM ROCKS goes on sale at dealerships from 15,990 euros (RRP incl. VAT in Germany).
ADAM ROCKS stands for pure adventure inside and out. Protective, anthracite-colored body cladding enhances its tough, muscular look. Silver skid plates front and rear, and a bold chrome exhaust fitted as standard complete its exterior design highlights. ROCKS also offers new body paints, such as vibrant yellow "Goldbusters", and a wide range of roof design options. To further individualize the cabin, new colors, door trim options and décor elements unique to Opel's mini urban trailblazer are available. So in terms of customization potential, ADAM ROCKS is on a par with its stable-mates.
The Opel ADAM ROCKS showcases the arrival of an all-new development under its hood. In addition to familiar naturally-aspirated, 1.2 and 1.4-liter gasoline engines delivering 51 kW/70 hp to 74 kW/100 hp, Opel is offering its all-new 1.0 ECOTEC Direct Injection Turbo for the first time. This all-aluminum three-cylinder unit delivers 66 kW/90 hp, while a top-of-the-line version reaches 85 kW/115 hp. The four-cylinder engines are mated to a five-speed transmission and both 1.0-liter Turbo units come with a new compact and lightweight six-speed manual gearbox. This gives ADAM ROCKS a comfortable, superbly smooth and fast shift operation.
With its Swing Top canvas roof, ADAM ROCKS offers easy access to open-air driving fun whenever and wherever the driver feels like it. The roof folds back neatly on to the C-pillars in just five seconds – and can, of course, be opened or closed while the car is moving (at speeds up to 140 km/h). The entire roof module is acoustically tuned for good noise insulation inside the cabin and the robust, three-layer fabric has a neoprene center sandwich for weatherproofing and durability.
ADAM ROCKS also features Opel's award-winning IntelliLink infotainment system with all its multi-media connectivity options and apps. It allows the seamless integration of ANDROID as well as Apple iOS smartphone functionalities inside the car. This ensures drivers never lose contact with what's going on around them, while allowing them to make phone calls or choose favorite music tracks or, using SIRI EYES FREE voice control, to hear an incoming SMS read aloud or dictate an SMS and emails – all while keeping their hands on the wheel and their eyes on the road. When ADAM ROCKS is stationary, photo galleries or videos can be viewed on the 7-inch high-definition color touch-screen.
IntelliLink is not only safe and easy to operate, it is also extremely affordable, making ROCKS the best connected small car on the market, just like its ADAM stable-mates. It's a talent recently underlined by ADAM winning the "Connected Car Award" from German trade journals Auto Bild and Computer Bild.
ADAM ROCKS went from concept car to production readiness in just twelve months. It was born and nurtured at Opel's International Technical Development Center (ITDC) in Rüsselsheim and, like the rest of the ADAM family, it is built in Germany at Opel's Eisenach plant. Opel is the only automaker to develop and make a small car like ROCKS in Germany, and the Eisenach plant's high efficiency has made it possible.
Source: Opel
(Visited 47 times, 1 visits today)