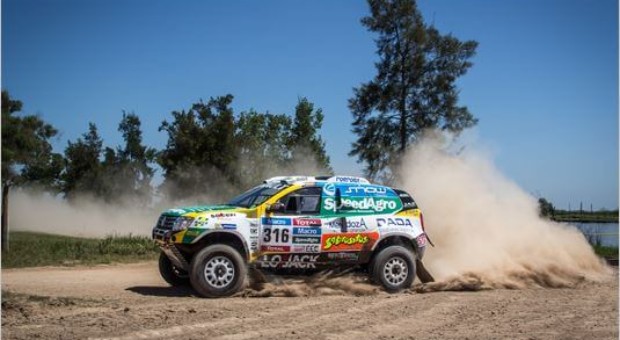 'Renault Duster Team' already in the Top 5 at 2015 Dakar Rally
Spataro/Benjamín Lozada crew ended the first leg in fifth place, alongside some of the top specialists of the legendary off-road Rally, held in South America.
Emiliano Spataro and Benjamín Lozada produced a fantastic performance on Sunday's opening leg of the 2015 Dakar Rally.
Driving the Renault Duster entered by Renault Argentina, with the support of Renault Sport Technologies, the South American crew reached Villa Carlos Paz in sixth position, before gaining an extra place after a penalty was handed to Nasser Al-Attiyah.
They therefore hold fifth place overall, less than minute behind the leader, Orlando Terranova, and only fourteen seconds adrift of second place, whilst also ending the leg ahead of some very accomplished drivers, such as former winners Carlos Sainz and Stéphane Peterhansel.
This is the best result recorded by the Renault Duster Team at this stage since its debut in 2013. Last year, José García and Mauricio Malano were ninth overall after the first leg.
García and Malano, in the second Renault Duster, also made a good start on Sunday in Argentina. However, held up by poor visibility and difficulties in overtaking the cars ahead of them on the road, they ended the first leg in 37th position, less than 14 minutes off the lead.
Overall standings after the first leg, Buenos Aires – Villa Carlos Paz – Dakar 2015
1. Terranova – Graue (Mini) 1:13:12
2. Gordon – Campbell (Hummer) +0:42
3. De Villiers – Von Zitzewitz +0:50
4. Holowicz – Panseri +0:54
5. Spataro – Lozada +0:56
37. García – Malano + 13:55
The two Renault Duster crews will resume their journey on Monday, heading from Villa Carlos Paz to San Juan, covering a total of 625 kilometres, with 518 kilometres of timed stages.
(Visited 25 times, 1 visits today)