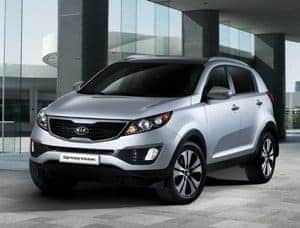 Experience a whole new change by Kia – Kia believes in better technology, performance and design. Experience a whole new change by Kia.
The first generation Sportage was developed with a Mazda Bongo engineering base platform. It shares many mechanical components such as the engine, transmissions (early), and differentials with the Mazda line of vehicles. This was during the alliance of Ford-Mazda-Kia for technology and product sharing in the early to mid-1990s.
Sportage was sold in either a four-door or a two-door soft-top convertible. The four-door version also had a long chassis body (Sportage Grand) in Asian and Australian markets.
The long chasis models came with 10 inches (250 mm) longer boot space in the back. The first-generation Sportage was discontinued in North America for 2002, worldwide for 2003 except for Pakistan (Asia) it continued till 2004, later it was put on hiatus until a second generation model was ready.
The four-door short chassis model measures just a quarter of one inch longer and the same width as the Geo Tracker, but boasts 130 hp (97 kW) and optional four wheel drive. The 1998 Kia Sportage was the world##Q##s first production vehicle to be equipped with a knee airbag.
This first generation model (1993–2002) sold in low numbers even domestically in South Korea, however, and post-Hyundai takeover models (1997–2002) were recalled twice for rear wheels dismounting while driving.
The 2011 will play host to the debut of the Third-generation Peter Schreyer-penned Sportage. Sharing the same platform as the Hyundai Tucson, the new Sportage will have larger overall dimensions than previous iterations.
It is also expected to feature the same powertrain options as the Tucson (and its European tag, iX35).
Related External Links